Procreate 5 Launches with Massive update- Animation, New Engine, New Colour system, New UI etc
Procreate has taken art world by storm and has now enabled professionals to draw high quality art on iPad and thus the ability to work anywhere and anytime. The creators have teased the next major iteration of Procreate and has promised massive changes. This is in light of the appearance of Adobe Photoshop and Fresco on iPad, intensifying the competition.
This new version brings in the biggest changes in Procreate history and has below changes:
New Graphic Engine: The new Valkyrie engine is more powerful and utilises Apple's hardware to the fullest providing flexibility to users. This also gives birth to new brush engine debuting in Procreate 5.
New Brush studio: Procreate 5 now has a new Brush Studio which brings huge customization to brushes, just like a desktop painting client. Creating brush in full screen mode is easy, has multiple settings, texture generation is easy and live preview is available to check changes immediately.

Combining brush: The brush engine also brings the ability to combine two or more brushes to make a unique brush. Just swipe two individual brushes and tap to combine them.
Adobe Photoshop brush support: You can now import your favourite photoshop brushes in Procreate.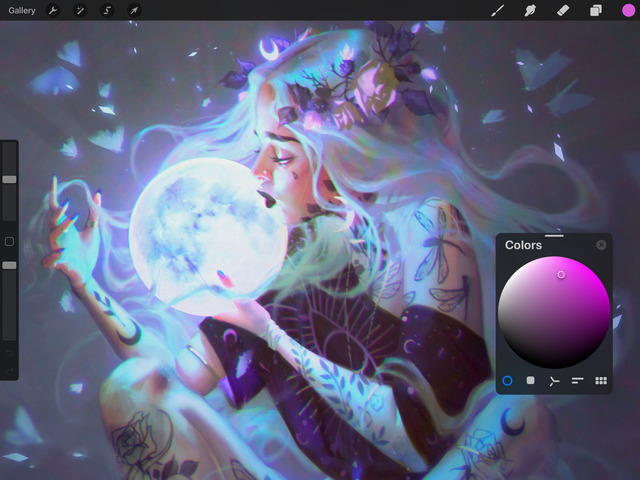 Animation assist: The major user facing changes which is making its debut in Procreate 5 is the Animation Assist. Procrate now has a great animation support system which includes onion skinning and instant playback.
Color Dynamics: Create depth and vibrance by adding color variation to your brush strokes. Add stroke or stamp jitter for happy accidents, or precisely introduce a secondary color with pressure or tilt.
New UI: Procreate aims to be minimalistic in the interface and has gestures for most common tasks. However, this does make selecting colors a tad more difficult with constantly making UI visible and selecting a color from the color wheel. A Floating color swatch makes an appearance which precisely solves this issue. There is also color history here a.k.a. Photoshop / Krita color history system. The new UI also extends to new animation system.

Colour Harmony: Procreate now offers to select complementary color through the color wheel using the color harmony principles. Choose from Complementary, Split Complementary, Analogous, Triadic and Tetradic profiles.

Colour profile: CMYK makes an appearance and thus procreate can now be used for creating prints, comics, and books from your Procreate artwork is better than ever.
The latest version is now available in Apple's App Store and is an absolute must for iPad and Apple Pencil owners. Existing users get free update compared to Adobe Photoshop where $10 per month needs to be shelled out.