AMD brings Navi to Workstation- Radeon Pro W5700 announced
AMD's RDNA based Navi GPU makes a new entry and this time into workstation space. The Radeon Pro W5700 will be the first in the series and as the name suggests, this is the workstation version of the consumer version GPU i.e. Radeon RX 5700. With this, AMD has now brought the world's first 7nm GPU to workstation space.
Even though it shares the RDNA DNA with RX5700, this GPU has a completely new board. This succeeds AMD's previous generation workstation GPU WX 8200 which was Vega based GCN 5 core GPU and brings modern features and power efficiency like 25% IPC improvement,
Specifications
This GPU is Navi 10 based, has 36 CUs and a boost clock of 1930Mhz, making it faster than RX5700XT clock wise. Single precision (FP32) compute throughput is at 8.89 TFLOPS. A 256 bit wide bus in GDDR6 configuration with 8 GB onboard memory completes the package. TDP for the new card maxes out at 205W. This includes USB type C power utilisation. The card supports PCIe 4.0.
Coming to performance, AMD touts 41% higher average performance per watt when compared to its previous generation workstation GPU i.e. WX 8200.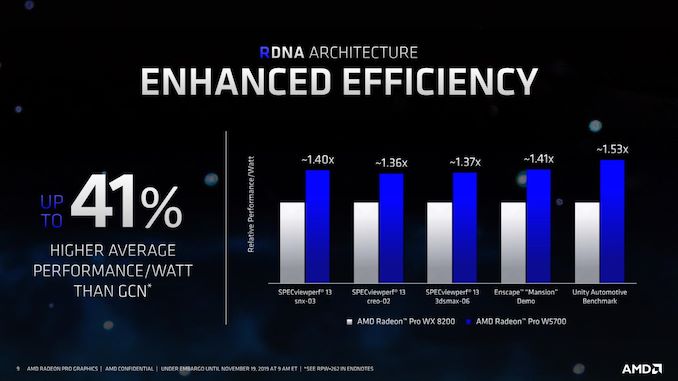 For Display I/O, Total 6 display output options are given which includes 5 mDP ports and a single USB-C port.
The card is launched physically instead of just paper announcement with a price tag of $799