AMD Launches Ultimate 1080p Gaming GPU- RX 5600 XT
The brand new RDNA based Radeon RX 5600 XT is here as announced in CES 2020 tackling 1080p gaming and Nvidia's GTX 1660 and GTX 1660 Super. AMD already has RX5500 series to tackle Nvidia GTX 1650 series.
Specifications 
This is a Navi 10 based silicon thus indicating RDNA architecture and is using 7nm process.
It has 36 Compute Units and 2,304 Stream Processors. The Radeon RX 5600 XT clocks at 1,375 MHz game clock and has a boost clock of 1,560 MHz. Thus this has single precision performance of 7.19 TFLOPs. The default card has up to 6GB of GDDR6 memory clocked at 1,500 MHz using 192-bit memory
Power Consumption
The Radeon RX 5600 XT has a power rating with a Total Board Power of 150W. However, as per AMD, in general, gaming scenarios, the card uses upto 120W.
Performance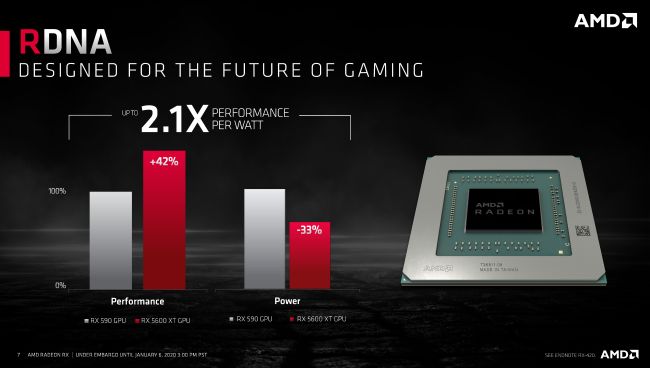 AMD has compared its GPU with its old sibling RX590, Nvidia GTX 1060, 1660 TI and 1660 Super. Compared to Polaris based RX590 this card outperforms the Radeon RX 590 by up to 42% while consuming 33% less power.
Compared to Nvidia Geforce GTX 1060 GB, the Radeon RX 5600 XT is up to 55%. This sounds super power powerful but when compared to more recent GPUs by Nvidia the Radeon RX 5600 XT is up to 20% and 10% higher performance than the GeForce GTX 1660 Ti in AAA and eSports titles, respectively.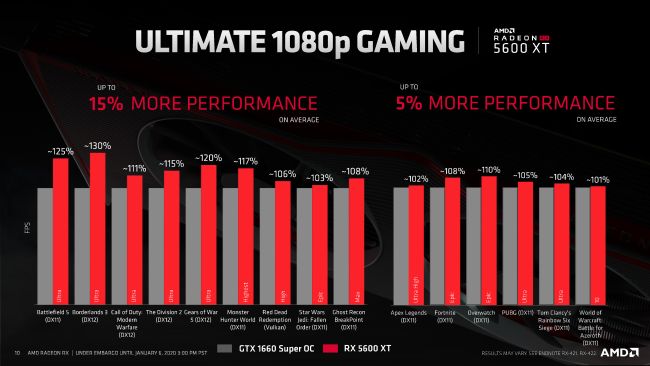 The still comes out on top, although marginally when compared to the GeForce GTX 1660 Super OC. It's 15% and 5% faster than the GeForce GTX 1660 Super OC in AAA and eSports games, respectively.
Pricing wise, this new GPU will be available at $279. This is although priced similar to 1660 Ti and this if we believe AMD's benchmark is slightly faster then Nvidia's offering. But the pricing is certainly not killing the competition like Ryzen is doing for CPU side. We really hope RDNA 2 based GPU will take the fight to the next level.