AMD may announce 2nd Gen RDNA GPU in CES 2020- Ray Tracing Included
With Nvidia's MCM designed rumors floating around, it was AMD's rumor turn leaked by Chiphell user. The Rumor states that AMD will announce 2nd Gen rDNA GPU as soon as CES 2020.
This places its credibility on a historical basis as AMD has used CES to unveil its other products. The event will be held in Las Vega from Jan. 7 to 10, 2020.
The rumor does not stops there as the rumor also states these will have hardware based ray tracing support.
So what can we extrapolate with this info?
We are potentially looking at high end enthusiast ready Navi based GPUs which hopefully will compete with Nvidia's 2080TI feature to feature. Now AMD has always supported HBM memory in their high end GPUs just like its retired Vega 7 GPU. So we may see return of HBM memory, otherwise, GDDR6 is always there.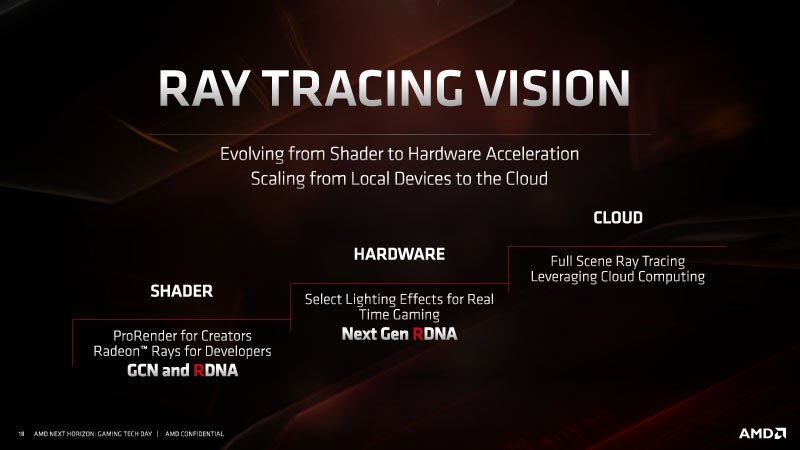 The GPUs will be certainly manufactured with 7nm+ process node. This will also result in much more energy efficient compared to first gen RDNA GPUs.
Nvidia is not sitting idle, their next generation ampere GPU will take on RDNA 2. This time Nvidia will also have the advantage of 7nm+ node shrink. Nvidia is way more efficient and powerful at 12nm. In anticipation to this, their ray tracing cores will be of second generation and will be definitely faster. However, AMD now has experience with two different ray tracing technology being built for Microsoft and Sony for Next generation consoles.
What is more exciting is the generation beyond RDNA 2 and Ampere as Nvidia and Intel both are shifting to MCM design and you can bet that AMD has an MCM design in development. Further, every GPU vendor will have ray tracing baked in. The future of graphics is glorious.