AMD Radeon RX 5500 Benchmark Appears: Matches RX580, Crushed GTX 1650
The Navi 14 base Radeon RX 5500 which was recently announced by AMD has a new benchmark unearthed by videocardz. As we have suggested before, it definitely crushed Nvidia GTX 1650.
Specification
The GPU features 1408 stream processors with 22 compute units, a boost clock of 1845 MHz whereas the Game clock is set at 1717 MHz. The card would feature up to 4 GB GDDR6 VRAM. The board power should be constrained at 110W.
The benchmark
As seen from the table below, the RX 5500 is very near RX 580 custom variant. Though falls short of GTX 1660 in OC mode. The biggest change when compared to Polaris based RX 580 is the power consumption. In idle state, RX 5500 is the least power sipping GPU. at full load, it still significantly draws less power than RX 580. Although Nvidia at 12nm still turns out to be most power-efficient.
Games
AMD Radeon RX 5500
Sapphire Radeon RX 580 Nitro+
Gigabyte GeForce GTX 1660 OC
3DMark Firestrike
12111 Points
12744 Points
12525 Points
Shadow of The Tomb Raider
59 FPS
65 FPS
69 FPS
Far Cry 5
72 FPS
75 FPS
85 FPS
Power Consumption
(Idle / Load)
7W / 133W
12W / 207W
10W / 128W
Comparing to benchmarks leaked by AMD's marketing material, RX5500 seems to perform 35% to 49% better than GTX 1650.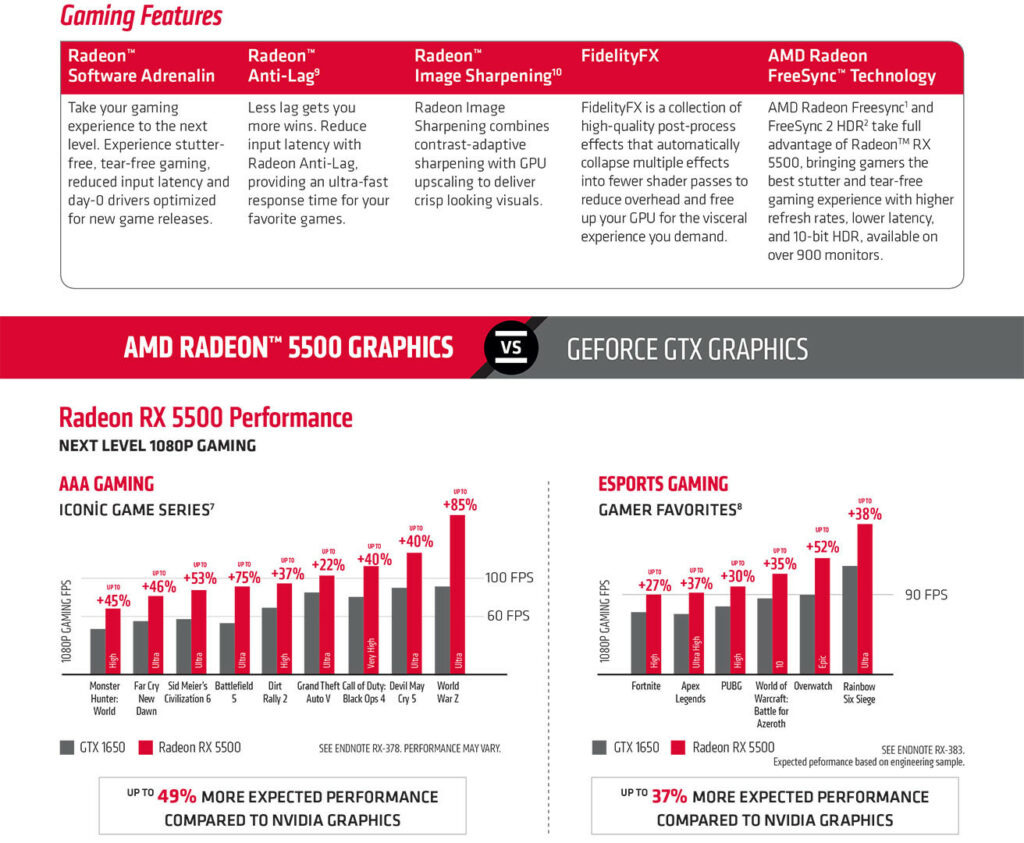 The 7nm fabricated Navi GPUs for mid segment as announced by AMD will have 3 variant for now, the RX5500 & RX 5500 XT for Desktop and RX5500M for Laptops. The cards will be using 128-bit memory bus which will offer 224GB/sec of memory bandwidth.
AMD is so confident that it has placed its RX5500 in the performance category. The RX570 and RX580 are missing from marketing material signaling end of the line for Polaris based GPUs
So what about Nvidia? Well Nvidia already predicted this and to spoil AMD's party, they have already readying GTX 1650 Super and it will get significant improvements compared to regular GTX 1650. The GTX 1650 super will come with extra 384 CUDA cores and RAM will be upgraded to GDDR6 instead of GDDR5