Netflix Optimizes FeeBSD, Triples AMD's Epyc Performance, Doubles Intel
In the 18th European BSD conference, Netflix presented its network optimization stack to FreeBSD, and open source operating system. The aim was to go from 100Gb/s throughput from individual servers to 200Gb/s throughput.
Presently Netflix uses a single Intel Xeon based server including Broadwell and Skylake systems. Both being limited to PCIe Gen 3, one with 40 PCIe lanes and Other with 48 PCIe lanes respectively.
In order to consider future upgrade path, either they can go with 2x Intel Xeon CPUs getting 96PCIe lanes or they can opt for AMDs Epyc with 128PCIe lanes access.
The results are as below:
For the Intel side, Xeon performance jumps to double and Epyc to Almost triple. However, the final performance was almost neck and neck where AMD just slightly edges out Intel.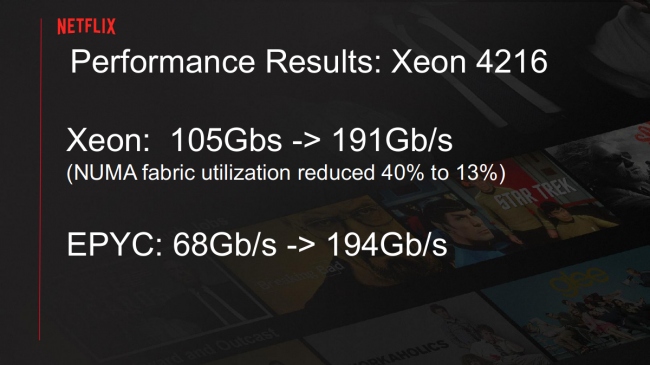 What factors are in favor of AMD, not only it edges out intel's solution, the whole solution can be achieved in single-socket as AMD is using 4 chip in one socket solution. However, the conversion cost from the current intel solution to AMD solution is something that Netflix folks will be keeping in mind.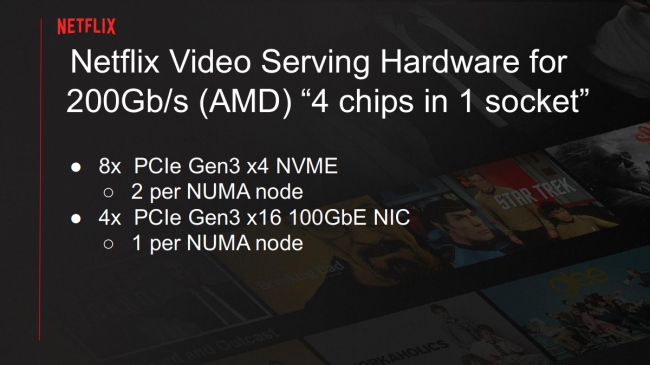 What is FreeBSD? (from Wikipedia)
FreeBSD is a free and open-sourceUnix-likeoperating system descended from the Berkeley Software Distribution (BSD), which was based on Research Unix. FreeBSD is the base of Apple MacOS, Playstation OS etc.
About Netflix (from Wikipedia)
Netflix, Inc. is an American media-services provider and production company headquartered in Los Gatos, California, founded in 1997 by Reed Hastings and Marc Randolph in Scotts Valley, California. The company's primary business is its subscription-based streaming service which offers online streaming of a library of films and television programs, including those produced in-house