Intel Launches Entry Level Xeon-E 2200
Here comes the next generation of Xeon CPUs on 14nm process node dubbed as Xeon E 2200 series. These CPUs are based on 9th generation architecture called Coffee Lake and will come in 12 flavors from 4 cores 0 thread to 8 cores 16 thread.
Motherboard
The motherboard supported will be LGA 1151 in single-socket configurations. The Chipset housed will be C240-series.
Memory
The chips support standard dual-channel DDR4-2666 ECC memory maxing out to 128GB of memory
CPU
Compared to the previous generation of E2100 series, which was limited to maximum of 6 cores, this generation will go upto 8 cores and boost clocks to upto 5Ghz in single core.
GPU
Being the entry level Xeons, The majority contains Intel UHD Graphics P630 graphics solution operating at 350 MHz base clock to 1.2 GHz. However few modes namely Xeon E-2236, E-2234 and E-2224 do not have any integrated GPU built in.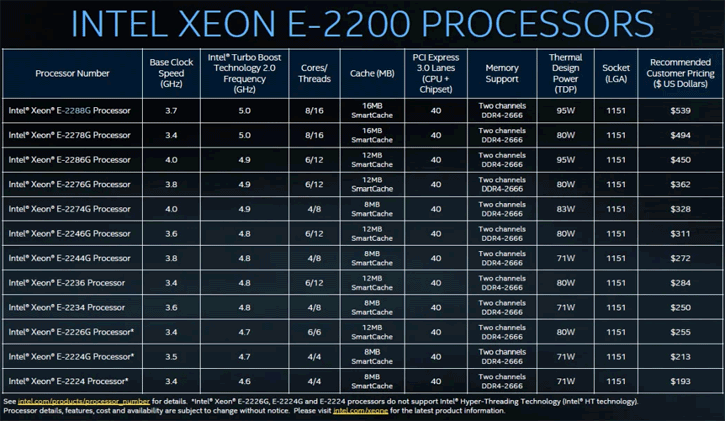 These are still the less exciting series out of the lot, the game will change once intel launches its 38C/76T and 48C/96T CPUs in 2020.