Bluetooth SIG Announces BLE Audio- Better Sound for Multi Headphones & New Codec
Bluetooth headphones have taken a new stride due to mass adoption rate after manufacturers have started dropping audio jack port and Apple popularising AirPods. However, the advent of AirPods like devices has resulted in audio issues in old Bluetooth stack. Lets Dive into it.
With a pair of a wireless devices (lets say AirPods), transferring audio to both the units is a pain as the existing Bluetooth specification was not designed for it. In order to resolve it and use the existing Bluetooth stack, One side of Airpods receives the audio and quickly transfers the same to the second pod in other ears. Although a great method but this results in sometimes stuttering and interruptions if Bluetooth is connected to and audio is received from multiple devices.
MultiStream Audio: Bluetooth LE should fix this and resolve stuttering and smoother switching if connected to multiple sources of audio.
Broadcasting Audio: Multi stream audio support in LE audio also allows broadcasting Bluetooth audio from one source device to multiple. creating kind of small local radio station. the SIG also hope that this will help with people with hearing loss and are using Bluetooth Hearing Aids.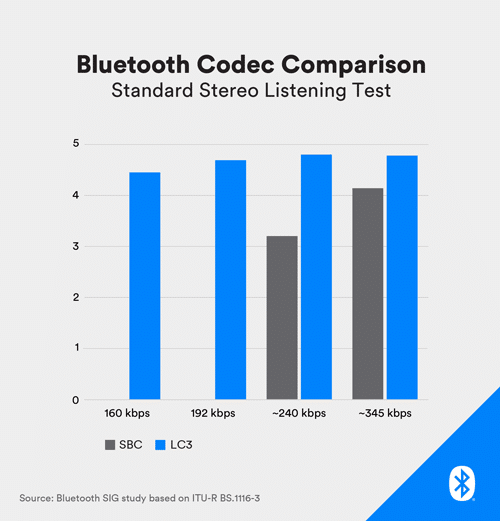 New Audio Codes: The most important aspect of LE Audio is that it brings a brand new audio codec which overrides the aging SBC standard. LE3 (Low complexity communications codec) promises major upgrades in transmission efficiency as well as audio quality. This also solves the issue of multi proprietary Bluetooth codecs which result in confusion in selecting Bluetooth hardware.
Low Battery Usage: Being a low energy system, this will also lead to long lasting batteries when using Bluetooth.
Availability: Qualcomm & also had a development board showcasing the same feature. This feature will hopefully arrive in the second half of 2020.
About the Bluetooth SIG
Formed in 1998, the Bluetooth SIG is the not-for-profit trade association that oversees Bluetooth® technology. In support of more than 35,000 member companies, the Bluetooth SIG facilitates the collaboration of its members and adoption of Bluetooth technology.