Matrox to Use Nvidia GPU Tech for Next Multi Display Video Wall
Matrox, Once a revered GPU maker who at one point could have overtaken Nvidia if things went their way is now teaming up with Industry Giant Nvidia to create its next video wall. Wait what?
Matrox was once a sperate GPU vendor, a landscape much different of what we have now. Matrox jumped into popularity with its Parhelia GPUs which supported wall multi monitor (3 monitors) setup which was completely unheard of that time. However, Matrox could not keep up with Nvidia and AMD and has moved to service a niche market of Making hardware that supports video walls.

Matrox now specialized in video wall but with quite an old tech coming to GPU side as the world is moving at the rapid space here has now announced a new collaboration with its once a rival, Nvidia. As the announcement by Matrox:
This collaboration is yet another example of our commitment to expanding our video wall portfolio while customers continue to benefit from our graphics expertise, world-class engineering, dedicated technical support and long product life cycles

David Chiappini, executive vice president of research and development at Matrox vide Matrox Press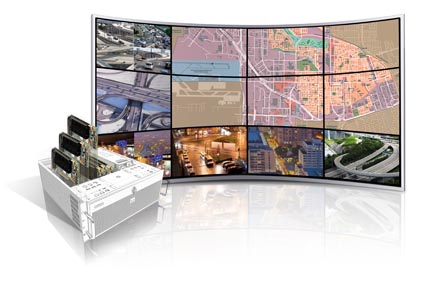 The graphics card will be based on an Nvidia Quadro GPU and will be able to drive up to four 4K display which combined with the single-slot design means you can use a single system with four of these cards to drive up to 16 4K displays. Multiplying that will give us a total resolution of 15,360 x 8,640 pixels when arranged in a four by four matrix, aka 16K resolution.
Nvidia also chimed in by saying:
Matrox is a leader in creating graphics-rich video walls that make an instant real-world impact with customers. The exceptional video playback performance, reliability, and longevity of the NVIDIA architecture makes it an ideal platform for the GPUs Matrox is developing for next-generation video walls.

Scott Fitzpatrick, vice president of Quadro Product Marketing at NVIDIA vide Matrox Press
So everyone who are old enough to remember Matrox and were hoping for a comeback should be slightly disappointed. The only vendor who is coming up with a new GPU to take on Nvidia and AMD is Intel.