Update: Launched Mi TV 5 Images Leak
Update: Xiaomi has officially launched as of now china only Mi TV 5 and Mi TV 5 Pro with screen sizes of 55″, 65″, and 75″ models with 4K resolution with prices from $428, $570 & $1140 respectively for non pro and $527, $713 & $1,426 for pro versions.
Xiaomi is going to host an event on 5th November and with all the leaks coming out, Xiaomi will be launching Mi CC9 Pro Smartphone and this leaks also shows that Mi TV 5 will be in the launch party too.
With OnePlus trying to claim the high end TV market, Xiaomi wants to one up.
The teaser by Xiaomi and Leaked photo shows that the TV will be very thin, and have "Design by Xiaomi" branding on the side. The TV will have extremely thin bezels and the material used for construction seems to be made of metal.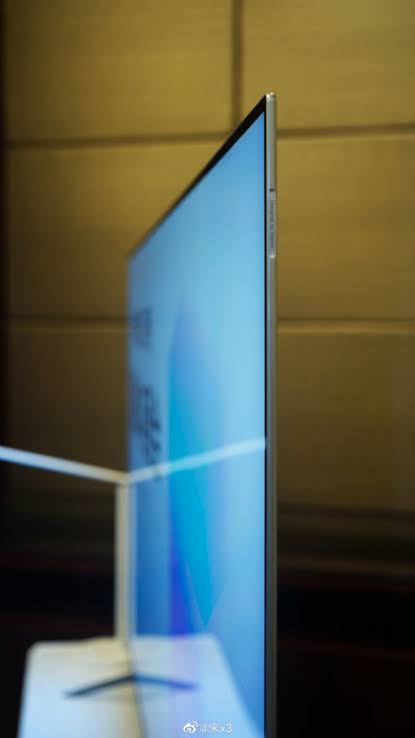 Speaking of TV itself, Mi TV 5 will have a 4K resolution. The panel is QLED and will sport a wide color gamut of 108 percent NTSC.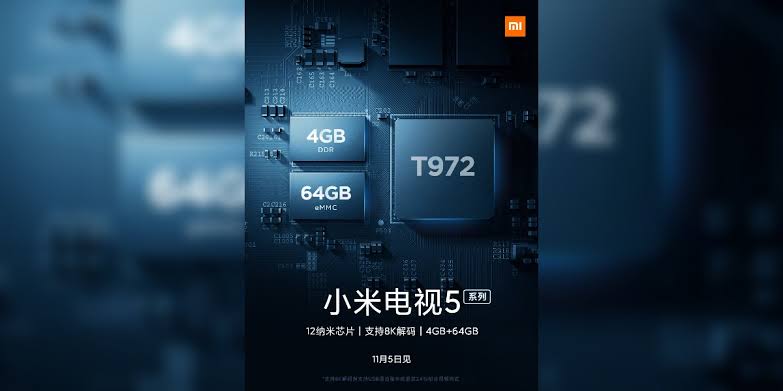 Internally, Mi TV will be based on Amlogic chipset called T972. This is a new SOC that is not even listed on Amlogic Site. It has a quad-core A55 processor and has up to 1.9 GHz clock speed. it will have 4GB RAM 64GB Storage. The closest chip Amlogic has with Cortex A55 is S905X3, So we can be sure the GPU is ARM Mali and may sport G31 MP2 (A Bifrost design by ARM). The SOC should also have Neural Network Accelerator with 1.2Tops performance. However, none of the SOC Amlogic have can do 8K decode. So this might be even more new Chip.
The TV is also set to come with MEMC motion compensation tech for low latency and smooth viewing experience.