Nvidia and ASUS not satisfied with Current refresh rate, Announces 360Hz Gaming monitor.
When we thought Nvidia will mellow down with G-sync monitors as they are opening support for AMD GPUs, they along with OEM partners have gone ahead and announced in CES a new massive 360Hz monitor. This aligns with Nvidia's slogan that frames wins games.
This product is aimed at competitive esports gaming where refresh rates are most important. The fast refresh rate monitor to date is announced by ASUS with ROG Swift 360 Moniker.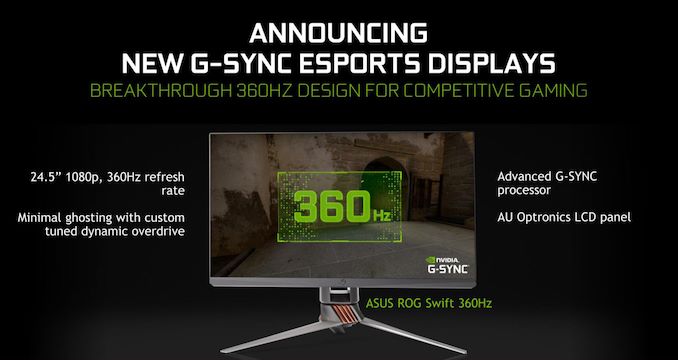 As per ASUS
Just how fast is 360Hz? In the blink of an eye, the ROG Swift 360Hz has already refreshed an incredible 54 times. A plain old 60Hz monitor would only have drawn nine new frames over the same period of time, all else being equal. Even compared to widely-available 240Hz gaming monitors, the ROG Swift 360Hz can draw a whopping 50% more frames every second. With this kind of benefit, it's only a matter of time before every competitive player will want nothing less than the new best of 360Hz.
Specification
The ROG Swift 360 is limited to Full HD screen only. The size is 24.5 inch display, this being in collboation with Nvidia supports G-Sync capabilities. The type of panel although not disclosed, we guess its has to be TN based.
What is Gsync?
We have our full article explaining the technology but for a small excerpt "G-Sync tried to do the opposite of V-Sync. Unlike vsync where GPU was forced to sync with the monitor, here Monitor is forced to sync with the GPU. But how? These monitors have variable refresh rates, i.e. unlike monitors with static refresh rates like 60Hz all the time, these have a range of refresh rates like 30 to 144Hz. This if the GPU is able to output 100FPS, The monitor syncs the refresh rate to 100Hz. Similarly if in games there is more GPU intensive segment and output reduces to 30FPS, the monitor adapts and goes to 30Hz mode".