Apple debuts A15 Chip, Its Most Power Chip till Date
Apple put up a huge show and unveiled tons of products in its event, but for all graphics enthusiasts, the juiciest of all was the debut of A15 Bionic chip which is for now going to power the latest and greatest iPhone 13 and will have massive 15 billion transistors making it first mobile chip to do so. compared to A14 bionic, it's a massive increase considering A14 had 11.8 Billion transistors. but is still shy from the M1 chip of iPad Pros with 16 billion transistors.
But why does it matter? That's because we know that down the line, A15 will become for next iteration of chip for iPad which is where all the fun at for graphic enthusiast people.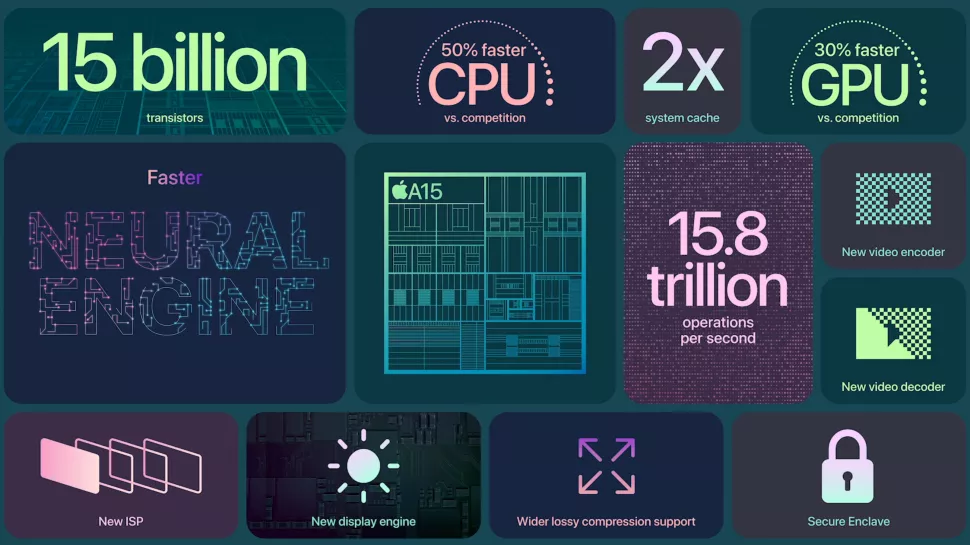 The chip is manufactured by TMSC's latest cutting edge 5nm manufacturing process (5NP) which is understandable as Apple is the largest customer of TSMC which definitely does help in Apple's claim of "upto 50% faster than the competitors". on CPU side it has 6 core in big.little format with 2 powerful cores and 4 efficient cores.
GPU side also perked up with 4 to 5 core GPU (depending upon the phone model) which will also aid in running 120Hz refresh rate and film in 4K at 30 frames per second. This will be crucial for apple since Samsung is supposedly debuting with RDNA based GPU in the next SOC which theoretically is supposed to obliterate the competition. A15 also has a neural engine that can perform 15.8 TOPS.
This efficient CPU also promises 2.5 Hr to 1.5 Hr battery life increase.